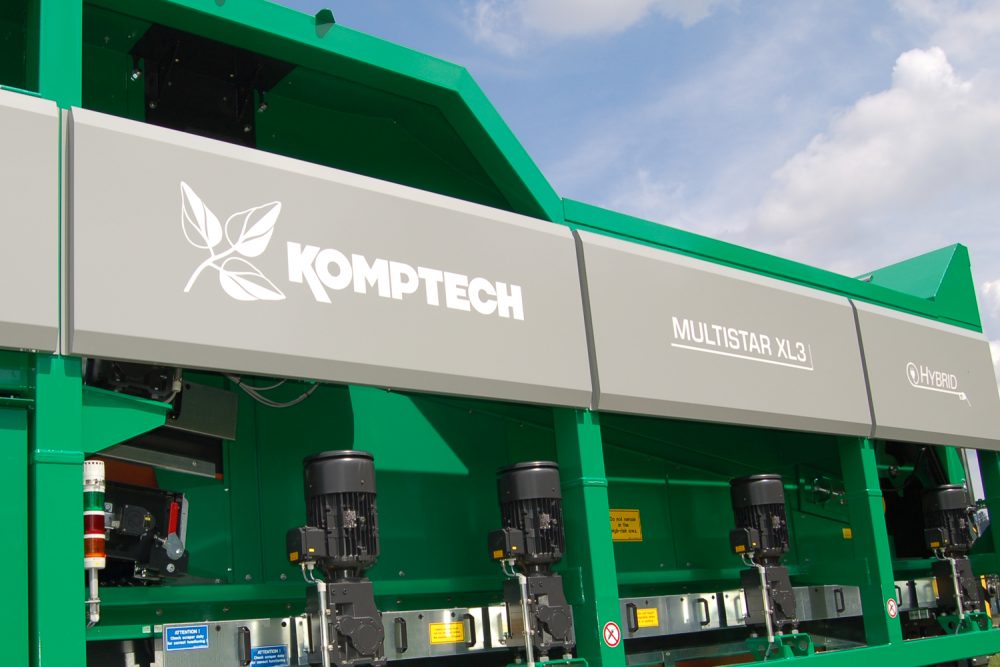 At Power Screening, we offer some of the highest-quality equipment available to our customers in all aspects of the waste and recycling process. Some great examples of this are the composting and shredding equipment we offer from Komptech. This equipment can be an indispensable addition to a recycling operation, improving efficiency, productivity, and profitability.
We wanted to take time to focus on some of these quality and efficient products to help you understand what sets them apart and how they can improve your recycling and/or composting operations.
About Komptech
Komptech is a leading international supplier of technology, machinery, and systems for the mechanical and mechanical-biological treatment of solid waste. Komptech equipment can even help turn waste biomass into a renewable energy source. With over 30 different types of machines that cover all steps of the modern waste handling process, the company's focus is on innovative technology and solutions that provide the most benefit for your field operations.
Power Screening has maintained a strong and long-term relationship with Komptech Americas. We offer their high-quality mobile windrow turners and composting equipment as well as the genuine OEM parts necessary to keep them running properly. In addition, our trained team of technicians offer both shop and field support to keep your Komptech equipment up and running.
Compost Equipment: Windrow Turners
Windrow turners are great for open-air composting operations. The Komptech windrow turners efficiently stir large amounts of organic waste. This ensures the best processing for composting operations, turning waste into valuable product. Komptech machines provide power and reliability, combined with advanced technology and operator comfort. Most come in wheeled or tracked configurations so you can get the machine that's best for your business.
We offer numerous types of Komptech compost equipment so you can find the best machine for your operation. The Komptech Topturn X4500 is a lot of composter in a little package. It provides the reliability and performance of the X-series in a small size that's perfect for small- and medium-size operations. It's a great entry-level turner.
The Komptech Topturn X5000 is a high performance compost windrow turner engineered to deliver optimally sized compost windrows, while being easily transportable and production-ready for most or operations. The Komptech Topturn X63 is an ox of a windrow turner. Capable of handling rows up to 6 meters in width (nearly 20 feet), it has a powerful engine and a well-designed drum to ensure smooth and fast operation in all conditions.
The Komptech Topturn X6000 is a modern engineered machine built to perform efficiently in the most demanding commercial composting applications with ease, comfort, and reliability. Shredding Equipment: Single-Shaft and Dual-Shaft Shredders
Shredding equipment is essential for recycling and waste operations. At Power Screening, we offer both Komptech single-shaft and dual-shaft shredders. These high-quality low-speed high-torque shredders utilize Caterpillar engines for power and efficiency.
Single-shaft shredders are optimal for shredding tires, mattresses, carpeting, municipal solid waste, and highly contaminated construction and demolition waste. Features like a remote-controlled hopper and a hydraulic drum drive capable of reversing at any time for self-cleaning make the Terminator shredders an excellent choice for appropriate applications. Depending on the material processed, the Terminator 3400 S can shred up to 55 tons per hour, while the 6000 S can double that.
Dual-shaft shredders are the best choice for stumps, green waste, food waste, construction and demolition debris with extensive wood, asphalt shingles, railroad ties, hay bales, pallets, and rigid plastics. Auto-reverse overload protection helps avoid damage and keeps the machines running smoothly. Low maintenance, operating, and fuel costs help the profitability of your waste operations. The Crambo 3400 can process up to 50 tons per hour, while the 6000 can process up to 110 tons per hour, depending on the type of material processed.
Let Power Screening Match You with the Best Waste & Recycling Equipment for Your Operation
If you are looking to add or upgrade machinery in your waste and recycling operation, Power Screening can help you find the best option for you. Since 1984, we have been serving customers in the West, and we understand the benefits and limitations of each machine so we can steer you to the ones that will work best for you.
From our locations in Henderson, CO, Albuquerque, NM, and Salt Lake City, UT, we serve clients in Colorado, New Mexico, Utah, Nebraska, Eastern Wyoming, and Southwest Kansas. Please call (800) 231-5005 or contact us online today to talk to an aggregate equipment expert at Power Screening.